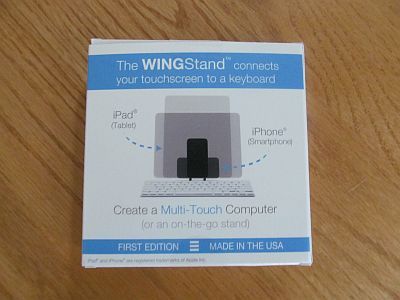 The new iPad is heavy and when watching videos I prefer to use a stand.  The WINGStand portable stand can dock your iPad complete with Apple keyboard.  It is a new product that is very convenient when traveling.  I have used many stands in the past for iPads and iPhones but the WINGStand really stands out.
The WINGStand comes in black or white colors and is made of durable plastic.  The stand is made to hold a tablet device along with an Apple Keyboard.  The stand comes in two pieces that you can attach for travel and break apart to use as a stand.  The WINGStand measures 2" × 2.75" × 0.75" and weighs a mere 0.53 ounce.
Since the WINGStand breaks apart you can adjust the two pieces to accommodate any size tablet or phone.  I tested it using the new iPad, iPad Mini, and iPhone 5 and it worked great each time.  When you attach an Apple Wireless Keyboard you can make this into a small dock that you can type and browse the web on.  I could see people putting this in the kitchen and looking up recipes on or doing some light business work on.
I put the WINGStand on the coffee table and I browse the web and type out emails while watch TV on my big screen.  Also it's lightweight make the stand perfect for travel on the plane on a long distance flight.  At only $14.95 a piece this is a perfect stocking stuffer this holiday season.
9.7 Out of 10
Buy it now HERE