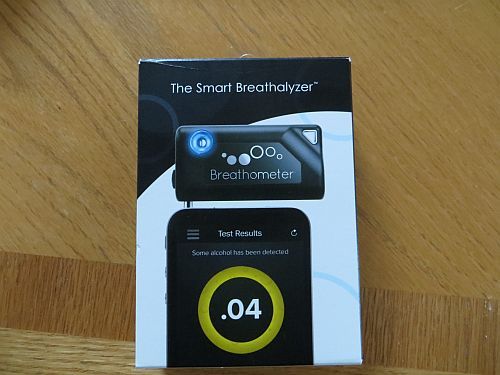 Breathometer is a Smartphone Breathalyzer that attaches to your IOS or Android device. The Breathalyzer inserts into the headphone jack port and uses one AAA battery to power the device. Breathalyzer is great to take with you when you plan to drink alcohol.

Breathometer A01 is a small black piece of plastic that has a retractable plug. The device was made to take with you as you could attach the device to your key chain. The idea of the device is to get your alcohol level so you can be safe before you step into your vehicle.

The Breathometer is simple to use as you just take out the device out of the box and plug it in the audio port. Next you download the app from either App store or Google Marketplace depending on the device. You can either register or login in to Facebook to sign in. And finally hit the button and breathe into the device until it says analyze. You will then get a reading along with a time that you should be sober.

The Breathometer will give you an accurate reading of your blood alcohol level so you can access your condition. While the device is not perfect, it is a device that can assist you to make the right decisions. The Breathometer is a cool device to try out amongst friends at parties and out to dinner.
9 Out of 10
Buy it now here
Breathometer A01 Smartphone Breathalyzer for IOS and Android, Black
Disclosure: Review unit, affiliate